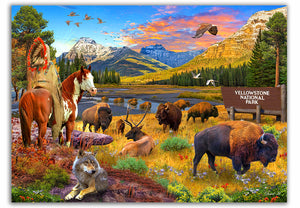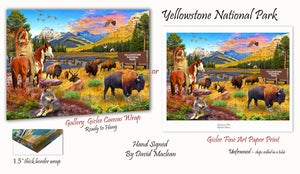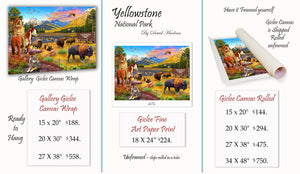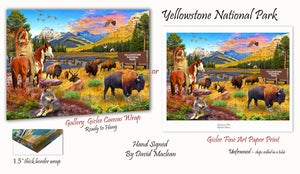 Yellowstone Nat. Park ________________________ Order Options Here
Yellowstone Nat. Park  By David Maclean
Yellowstone National Park is an American national park located in the western United States, largely in the northwest corner of Wyoming and extending into Montana and Idaho. It was established by the 42nd U.S. Congress with the Yellowstone National Park Protection Act and signed into law by President Ulysses S. Grant on March 1, 1872. Yellowstone was the first national park in the U.S. and is also widely held to be the first national park in the world. The park is known for its wildlife and its many geothermal features, especially the Old Faithful geyser, one of its most popular. While it represents many types of biomes, the subalpine forest is the most abundant. It is part of the South Central Rockies forests ecoregion.
While Native Americans have lived in the Yellowstone region for at least 11,000 years, aside from visits by mountain men during the early-to-mid-19th century, organized exploration did not begin until the late 1860s. Management and control of the park originally fell under the jurisdiction of the United States Department of the Interior, the first Secretary of the Interior to supervise the park being Columbus Delano. However, the U.S. Army was eventually commissioned to oversee the management of Yellowstone for 30 years between 1886 and 1916. In 1917, administration of the park was transferred to the National Park Service, which had been created the previous year. Hundreds of structures have been built and are protected for their architectural and historical significance, and researchers have examined more than a thousand archaeological sites.
Yellowstone National Park spans an area of 3,468.4 sq mi (8,983 km2)
Giclee Canvas
David's Giclee canvases are very special: professionally printed by David on artist's quality, heavy duty canvas with fully archival UltraChromeK3 pigment that should be treasured and cared for in the same way as an original work of art. Carefully reproduce with rich colors and beautiful detail that David uses when printing, with his strict color specifications. The art canvas is a heavyweight cotton blend, acid free, elegantly textured featuring tight weave with a wide color gamut for high quality, ideal for David Maclean's art works. The canvas is lightfast rated for 200 years.
Giclee Fine Art Paper Print
Giclee Fine Art Prints are printed with UltraChrome archival pigments on soft non-glare matte finish paper (10.3 mil thickness) for stable, durable prints that have a lightfastness rating of more than a 100 years.
The 18 X 24" size for the fine art paper print is the image size for this piece.             The white border around is extra inches. 
All Sizes are in inches 
Each print is handled and signed by David M
All David Maclean Art works are copyright protected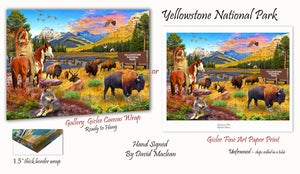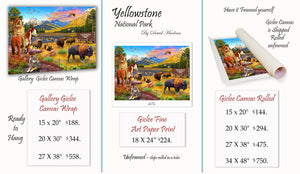 All prices shown in USD
(United States Dollar)