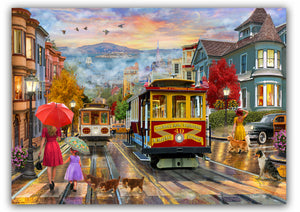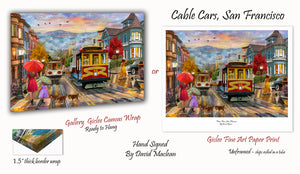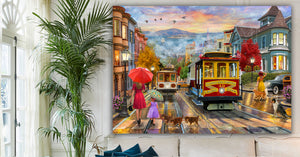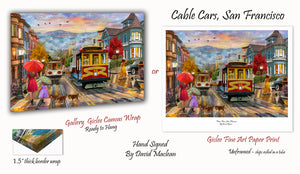 Cable Cars, San Francisco _____________________ Order Options Here
Cable Cars, San Francisco  By David Maclean
The San Francisco cable car system is the world's last manually operated cable car system. An icon of San Francisco, the cable car system forms part of the intermodal urban transport network operated by the San Francisco Municipal Railway. Of the 23 lines established between 1873 and 1890, only three remain: two routes from downtown near Union Square to Fisherman's Wharf, and a third route along California Street. While the cable cars are used to a certain extent by commuters, the vast majority of their 7 million annual passengers are tourists, and as a result, the wait to get on can often reach two hours or more. They are among the most significant tourist attractions in the city, along with Alcatraz Island, the Golden Gate Bridge, and Fisherman's Wharf. The cable cars are listed on the National Register of Historic Places.
Product Information,
Giclee Canvas
David's Giclee canvases are very special: professionally printed by David on artist's quality, heavy duty canvas with fully archival UltraChromeK3 pigment that should be treasured and cared for in the same way as an original work of art. Carefully reproduce with rich colors and beautiful detail that David uses when printing, with his strict color specifications. The art canvas is a heavyweight cotton blend, acid free, elegantly textured featuring tight weave with a wide color gamut for high quality, ideal for David Maclean's art works. The canvas is lightfast rated for 200 years.
Giclee Fine Art Paper Print
Giclee Fine Art Prints are printed with UltraChrome archival pigments on soft non-glare matte finish paper (10.3 mil thickness) for stable, durable prints that have a lightfastness rating of more than a 100 years.
The 18 X 24" size for the fine art paper print is the image size for this piece.             The white border around is extra inches. 
All Sizes are in inches 
Each print is handled and signed by David M
All David Maclean Art works are copyright protected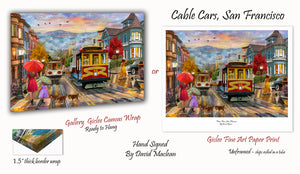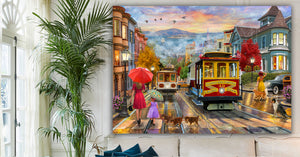 All prices shown in USD
(United States Dollar)