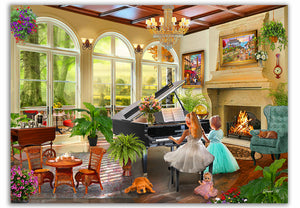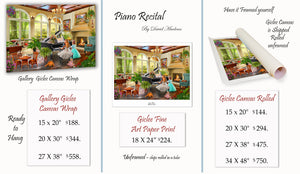 Piano Recital _______________________________ Order Options Here
Piano Recital  By David Maclean
Piano recital?
A piano recital is a time for music students to show off what they learn in their lessons. Students work hard to practice one or more pieces to perform in front of an audience. Pianists may spend several weeks preparing for this special event. Beginning students usually share a piece or two next to other students.
Recitals provide an opportunity to feel successful. Learning the piano requires many, many hours of solo practice. Performing gives your child the recognition they deserve for their hard-work. 3. Recitals provide an opportunity for you to show your child that you value their involvement in music.
Product Information,
Giclee Canvas
David's Giclee canvases are very special: professionally printed by David on artist's quality, heavy duty canvas with fully archival UltraChromeK3 pigment that should be treasured and cared for in the same way as an original work of art. Carefully reproduce with rich colors and beautiful detail that David uses when printing, with his strict color specifications. The art canvas is a heavyweight cotton blend, acid free, elegantly textured featuring tight weave with a wide color gamut for high quality, ideal for David Maclean's art works. The canvas is lightfast rated for 200 years.
Giclee Fine Art Paper Print
Giclee Fine Art Prints are printed with UltraChrome archival pigments on soft non-glare matte finish paper (10.3 mil thickness) for stable, durable prints that have a lightfastness rating of more than a 100 years.
The 18 X 24" size for the fine art paper print is the image size for this piece.             The white border around is extra inches. 
All Sizes are in inches 
Each print is handled and signed by David M
All David Maclean Art works are copyright protected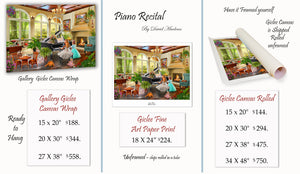 All prices shown in USD
(United States Dollar)