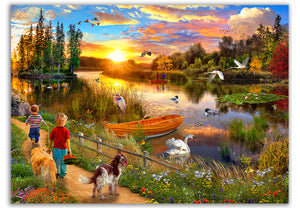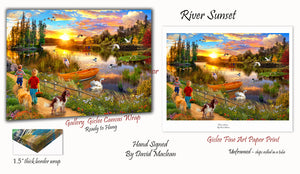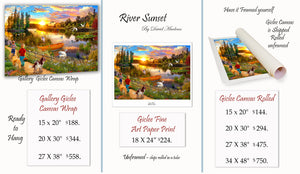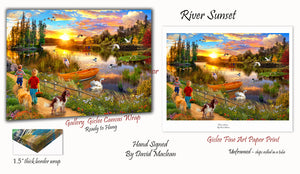 River Sunset ______________________ Order Options Here
A river is a ribbon-like body of water that flows downhill from the force of gravity. A river can be wide and deep, or shallow enough for a person to wade across. A flowing body of water that is smaller than a river is called a stream, creek, or brook. Some rivers flow year-round, while others flow only during certain seasons or when there has been a lot of rain. The largest rivers can be thousands of miles long. The erosional power of rivers can form geologic wonders like the Grand Canyon.
All rivers have a starting point where water begins its flow. This source is called a headwater. The headwater can come from rainfall or snowmelt in mountains, but it can also bubble up from groundwater or form at the edge of a lake or large pond. The other end of a river is called its mouth, where water empties into a larger body of water, such as a lake or ocean. Along the way, rivers may pass through wetlands where plants slow down the water and filter out pollutants.
Product Information,
Giclee Canvas
David's Giclee canvases are very special: professionally printed by David on artist's quality, heavy duty canvas with fully archival UltraChromeK3 pigment that should be treasured and cared for in the same way as an original work of art. Carefully reproduce with rich colors and beautiful detail that David uses when printing, with his strict color specifications. The art canvas is a heavyweight cotton blend, acid free, elegantly textured featuring tight weave with a wide color gamut for high quality, ideal for David Maclean's art works. The canvas is lightfast rated for 200 years.
Giclee Fine Art Paper Print
Giclee Fine Art Prints are printed with UltraChrome archival pigments on soft non-glare matte finish paper (10.3 mil thickness) for stable, durable prints that have a lightfastness rating of more than a 100 years.
The 18 X 24" size for the fine art paper print is the image size for this piece.             The white border around is extra inches. 
All Sizes are in inches 
Each print is handled and signed by David M
All David Maclean Art works are copyright protected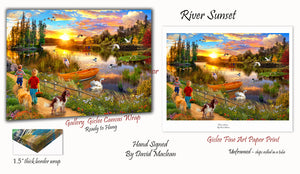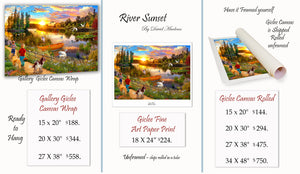 All prices shown in USD
(United States Dollar)