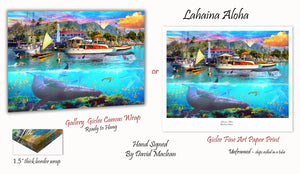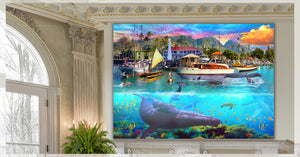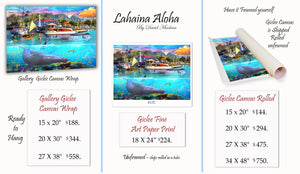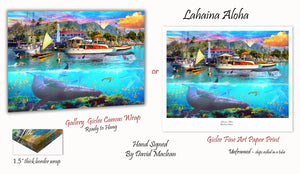 Lahaina Aloha ________________________ Order Options Here
Lahaina Aloha  By David Maclean
Lahaina Historic District is a National Historic Landmark District encompassing most of the community of Lahaina, Hawaii, on the west side of the island of Maui in the US state of Hawaii. Designated in 1962, the district recognizes Lahaina for its well-preserved character as a 19th-century port, and for its social and economic importance in the 19th century as a major whaling center in the Pacific, and as one of the capital cities of the Kingdom of Hawaii.[4]
Lahaina was a popular residential center for the kings of Maui prior to the arrival of European explorers in the late 18th century. Kamehameha I made his landing here when he began the conquest of Maui in 1795, and Kamehameha II established a residence here in 1819. That same year, the first whaling ships arrived, beginning the community's rise in economic importance. Lahaina eclipsed Oahu as a preferred whaling port between 1840 and 1855, because of its better deep-water anchorage. When Kamehameha III ascended to the Hawaiian throne in 1825, he made Lahaina his capital, preferring it to the busier Honolulu. The town declined in economic importance in the 1860s, as the whaling industry waned
Product Information,
Giclee Canvas
David's Giclee canvases are very special: professionally printed by David on artist's quality, heavy duty canvas with fully archival UltraChromeK3 pigment that should be treasured and cared for in the same way as an original work of art. Carefully reproduce with rich colors and beautiful detail that David uses when printing, with his strict color specifications. The art canvas is a heavyweight cotton blend, acid free, elegantly textured featuring tight weave with a wide color gamut for high quality, ideal for David Maclean's art works. The canvas is lightfast rated for 200 years.
Giclee Fine Art Paper Print
Giclee Fine Art Prints are printed with UltraChrome archival pigments on soft non-glare matte finish paper (10.3 mil thickness) for stable, durable prints that have a lightfastness rating of more than a 100 years.
The 18 X 24" size for the fine art paper print is the image size for this piece.             The white border around is extra inches. 
All Sizes are in inches 
Each print is handled and signed by David M
All David Maclean Art works are copyright protected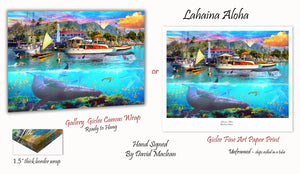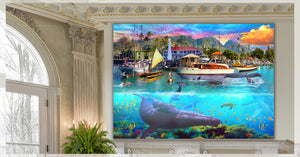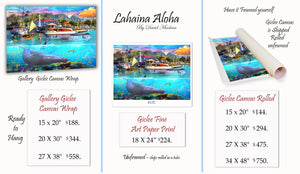 All prices shown in USD
(United States Dollar)