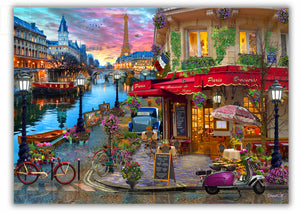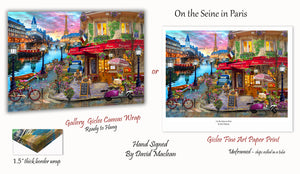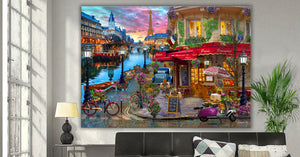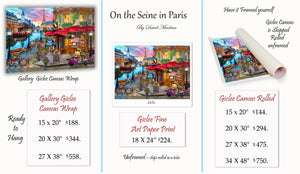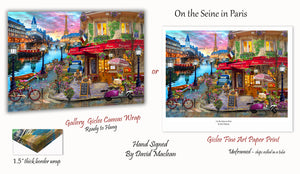 On the Seine in Paris ________________________ Order Options Here
On the Seine in Paris  By David Maclean
The Seine  is a 775-kilometre-long (482 mi) river in northern France.[2] Its drainage basin is in the Paris Basin (a geological relative lowland) covering most of northern France. It rises at Source-Seine, 30 kilometres (19 mi) northwest of Dijon in northeastern France in the Langres plateau, flowing through Paris and into the English Channel at Le Havre (and Honfleur It is navigable by ocean-going vessels as far as Rouen, 120 kilometres (75 mi) from the sea. Over 60 percent of its length, as far as Burgundy, is negotiable by large barges and most tour boats, and nearly its whole length is available for recreational boating; excursion boats offer sightseeing tours of the river banks in the capital city, Paris.[4]
There are 37 bridges in Paris across the Seine (the most famous of which are the Pont Alexandre III and the Pont Neuf) and dozens more outside the city. A notable bridge, which is also the last along the course of the river, is the Pont de Normandie, the ninth longest cable-stayed bridges in the world
Product Information,
Giclee Canvas
David's Giclee canvases are very special: professionally printed by David on artist's quality, heavy duty canvas with fully archival UltraChromeK3 pigment that should be treasured and cared for in the same way as an original work of art. Carefully reproduce with rich colors and beautiful detail that David uses when printing, with his strict color specifications. The art canvas is a heavyweight cotton blend, acid free, elegantly textured featuring tight weave with a wide color gamut for high quality, ideal for David Maclean's art works. The canvas is lightfast rated for 200 years.
Giclee Fine Art Paper Print
Giclee Fine Art Prints are printed with UltraChrome archival pigments on soft non-glare matte finish paper (10.3 mil thickness) for stable, durable prints that have a lightfastness rating of more than a 100 years.
The 18 X 24" size for the fine art paper print is the image size for this piece.             The white border around is extra inches. 
All Sizes are in inches 
Each print is handled and signed by David M
All David Maclean Art works are copyright protected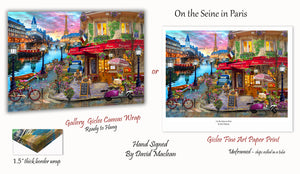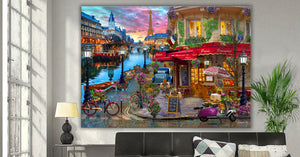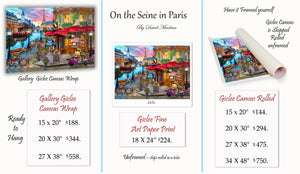 All prices shown in USD
(United States Dollar)