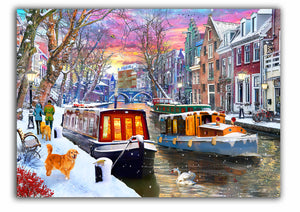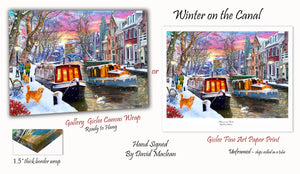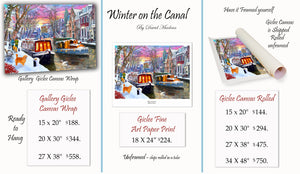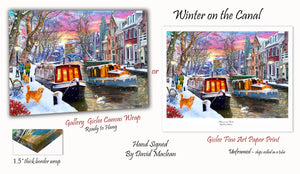 Winter on the Canal _________________Order Options Here
Winter on the Canal  By David Maclean
After the end of World War II, the growth of transport by inland waterways in Europe, coordinated by the various international authorities, resulted in an enlarged and integrated network brought up to a minimum common standard for craft of 1,350 tons. With the Rhine, the Moselle, and their tributaries dominating the German system and providing outlets for the Dutch and Belgian systems and connecting with the French network, main improvements were concentrated on the international Main-Danube Canal and on improving the north-south route of the Nord-Sud Canal (or Elbe-Seitenkanal). The latter canal (completed in 1976) leaves the Elbe about 32 km (20 miles) above Hamburg and, running south, joins the Mittelland Canal near Wolfsburg, Germany, reaching a total of 115 km (71.5 miles) and shortening the route between Hamburg and the Ruhr by 216 km (134 miles).
Product Information,
Giclee Canvas
David's Giclee canvases are very special: professionally printed by David on artist's quality, heavy duty canvas with fully archival UltraChromeK3 pigment that should be treasured and cared for in the same way as an original work of art. Carefully reproduce with rich colors and beautiful detail that David uses when printing, with his strict color specifications. The art canvas is a heavyweight cotton blend, acid free, elegantly textured featuring tight weave with a wide color gamut for high quality, ideal for David Maclean's art works. The canvas is lightfast rated for 200 years.
Giclee Fine Art Paper Print
Giclee Fine Art Prints are printed with UltraChrome archival pigments on soft non-glare matte finish paper (10.3 mil thickness) for stable, durable prints that have a lightfastness rating of more than a 100 years.
The 18 X 24" size for the fine art paper print is the image size for this piece.             The white border around is extra inches. 
All Sizes are in inches 
Each print is handled and signed by David M
All David Maclean Art works are copyright protected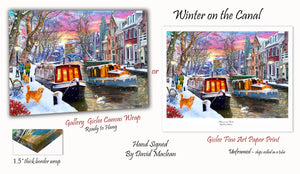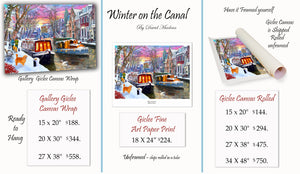 All prices shown in USD
(United States Dollar)